广西快乐双彩一等奖在那领奖 www.upvmyf.com.cn On September 11, 2015, Zili Deng, Deputy Director of High-Tech District, investigated Hunan Seud Network Science&Technology Co.,Ltd and had a meeting with persons in charge of Seud. He listened carefully about the main business, matching enterprises and the development of Seud. Meanwhile, he emphasized that the company should communicate with the government frequently and the government should help the e-business company to stand and develop in the High-tech district and establish good frame system to convoy the development of information and technology industry.
On the afternoon of September 11, accompanied by Xiaoyang Li of Commerce bureau, Xianjin Mao of Industrial & Commercial Bureau, Yigang Wu and Xuewu Wang of Public Security Subbureau, Libao Wan of Local Tax Bureau, Meiqi Yao and Zhang Zou of National Tax Bureau, Mr. Deng came to Hunan Seud Network Science&Technology o.,Ltd and had a meeting with persons in charge of the company.Tonny Luo, the CEO; Shuo Li, the executive director and Ning Li, the CFO; reported about the main business, the risk control, tax payment, etc. Mr. Deng listened carefully and inquired related information. When Tonny Luo talked about the introduction of matching enterprises, Mr.Deng said: " I appreciate that Seud introduces investment enterprises to the High-tech District." When Shuo Li talked about the risk control and expected to study the law and policies of High-tech District, Mr.Deng said: " I am moved that you have considered about this. High-tech District does not have complete regulations about the e commerce, while you have been ahead of the High-tech District. We can regulate the risk control procedures together."
Then, he inquired in detail about the attendance rate of Seud team, the capital operation, etc and gave important instructions to Seud that he hopes Seud will communicate with the government more often, grow stronger and stronger in the High-tech District and develop stably in long term.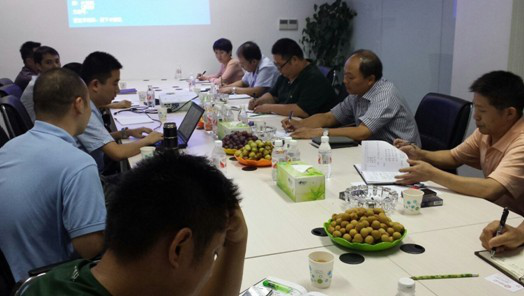 Mr. Deng investigated Seud and attended the discussion